The Best Time To Visit Arches National Park
Kam Wixom
Utah is home to one of the most geographically diverse regions in the United States. Home to the Mighty Five, a collection of awe-inspiring national parks that include Bryce Canyon, Capitol Reef, Zion, Canyonlands, and Arches, Utah is bathed in rich red rock formations clad in a gradient of hues and set against a bright blue sky. The wondrous landscape in Utah has evolved over 65 million years and continues to put on a different show every day.
One of the crowning jewels of Utah's offerings is Arches National Park. Located in the heart of canyon country in southeastern Utah, 1.5 million visitors come each year to see one of America's most scenic wonders. With more than 2,000 sandstone arches, as well as rock fins, pinnacles, and balancing rocks, a visit to Arches National Park is like stepping into a pre-historic wonderland. At sunrise, rays of light cascade over dramatic horizons to illuminate over 76,000 acres of high desert on the Colorado Plateau.
Arches National Park holds incredible sights, fragile sandstone arches, rock towers, monoliths, expansive desert valleys, and wide-open blue skies. If you are interested in visiting this natural wonder, Moab Adventure Center offers several national park tours through this Jurassic-aged destination. You can choose from among three different tours where you will discover a time when geologic forces from deep within the earth bulged upward to form delicate ribbons of sandstone masterpieces. We offer two guided tours that include hiking and exploring as well as an air tour where you will get a unique perspective of the park.
Whether you are coming for a self-guided eco-friendly hike or taking advantage of one of our guided adventures, there are several things to consider. One of the most important things to think about is when you want to visit. The park is open year-round, 24 hours a day, and can be visited at any time. However, the park drastically changes over the seasons and offers completely different experiences depending on when you go. The summer months are one of the busiest times of the year, while the winter provides a less crowded experience. However, any time you visit, you are sure to be in for a journey like no other. Let's look at visiting Arches National Park at different times of the year.
Winter Over Arches National Park
Many visitors often overlook the winter months when planning a trip to Arches National Park, however, it can be a perfect time of year if you don't mind cooler temperatures. During the winter, red rocks and sandstone topped with layers of snow can provide unforgettable views and an experience like no other. Temperatures in the winter around Arches can range between 30 and 50 degrees. If you are coming during the coldest months, you may encounter some wind, snow, and a little freezing rain. Some of the trails may occasionally close for safety concerns depending on the weather. Overall, the winter months are less crowded and offer a unique perspective of snow-covered arches and monoliths cast against the backdrop of beautiful Utah skies.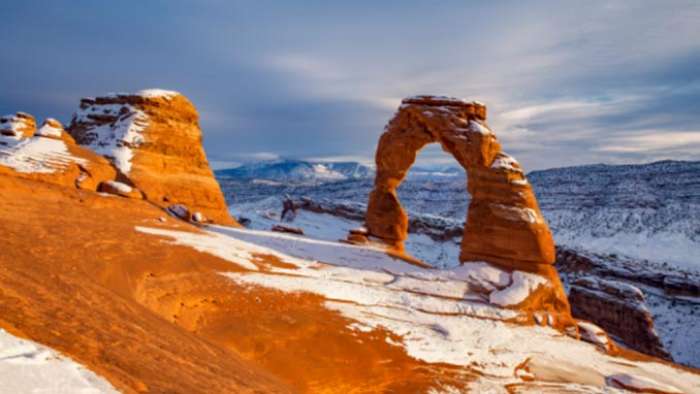 Spring in Arches National Park
Arches National Park is picturesque no matter what time of year you visit. However, spring is an exceptional time. With temperatures that range from 70 to 80 degrees, you will be in for a pleasant day. The park does receive a good bit of sunshine during longer spring days, and you will want to be sure to bring sunscreen and good headwear along. As the spring season draws closer to the summer, the crowds will begin to pick up, with May seeing larger numbers of visitors. In the spring, a trip to Arches will include pleasant temperatures, gorgeous sunsets, flowering plants, and breathtaking views along the scenic drive and hiking trails. If you plan on seeing Arches in late April, you might even be able to take part in National Parks Week,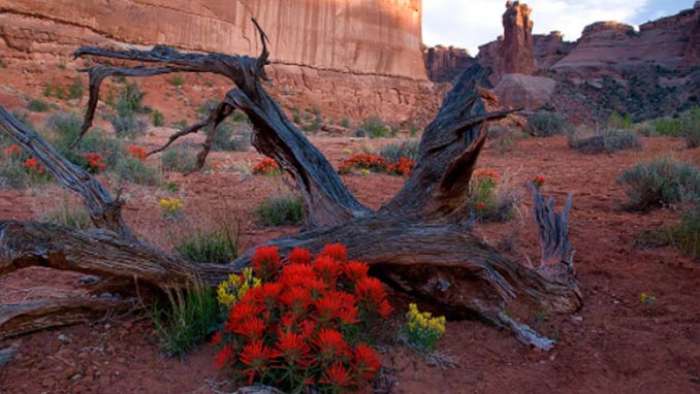 Summer at Arches National Park
Summertime is one of the most crowded times of the year at Arches, with school being out and families taking vacations. From Memorial Day to Labor Day, you can expect some of the heaviest crowds and wait times throughout the park. In general, you can expect afternoon temperatures to be around 100 degrees, so you'll want to plan to bring sunscreen, proper headwear, and plenty of water. If you're willing to get up a little earlier, the mornings offer spectacular sunrise views and pleasant temperatures without the hustle and bustle of summer crowds. You can also take advantage of the morning tour option and explore the rocks off of the paved walkways.
As the summer months approach, the area around Moab and Arches comes to life with numerous lodging and dining options as well as plenty of attractions for the entire family. The summer is a great time to see Arches if you don't mind the heat and sharing the amazing sights with people from all over the world.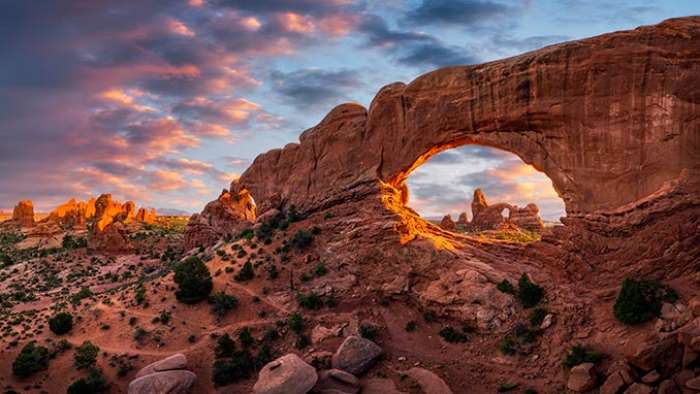 Fall in Arches National Park
After Labor Day weekend, fall begins to settle in across Arches National Park. The park stays pretty busy through much of October, but fall can prove to be an experience that you won't get during any other time of year. Incredible perennial scenery coupled with temperatures between 60 and 80 degrees makes fall a spectacular time to come to the park. Fall colors combined with the sandstone rocks' brown, orange, red, and purple hues provide an incredible scene. The evening temperatures can be quite cool in late fall, so you'll want to be prepared with appropriate clothing. If you plan on being in the area around the beginning of November, you can also check out the Moab Folk Festival for a cultural and musical experience.
You will be hard-pressed to find a better experience than exploring Arches National Park in Utah. Many travel experts and visitors suggest that the best times to see the park are April through May and September through October. We don't think that there is ever a bad time to see the majesty and splendor of the Devil's Garden Trail, the Fiery Furnace, La Sal Viewpoint, the Windows Section, or the Delicate Arch. Moab, Utah, offers a variety of temperatures and weather conditions so that there is always something for everyone.
No matter when you plan to come to Arches National Park, Moab Adventure Center is ready to help take your experience to the next level and make the most of your time in Moab. Whether you want to see Arches at sunset, take a tranquil morning hike, or experience the thrill of Moab's sunrise hot air balloon ride, we can help you take your vacation to the next level. Contact us to learn more about our adventures and get your free insider guide to Moab, UT.