Best things to do
in Moab, Utah


The Best Things to Do in Moab, Utah
A person's tastes in adventure are as varied as Moab's ability to fulfill them. There's so much more to Moab than just the seeing, there's also the doing: whitewater rafting, two National Parks, off road adventures, ziplining, rock climbing, scenic drives, museums, spas, art galleries, horseback rides, and Moab's Backyard Bash concert series. Whether you want to spend your time in Moab being civilized or rugged, you're spoiled for choice of things to do in Moab, it's only a matter of how much you can fit into your days.
If you're planning ahead, you may have time to reserve a multi-day (overnight) white water rafting expedition as the centerpiece of your vacation, then plan all the other day adventures, like a visit to Arches National Park, on the days before or after your life-changing adventure down these beautiful southwest canyons on display here in Utah. Let us know how you want to plan it, we love to help!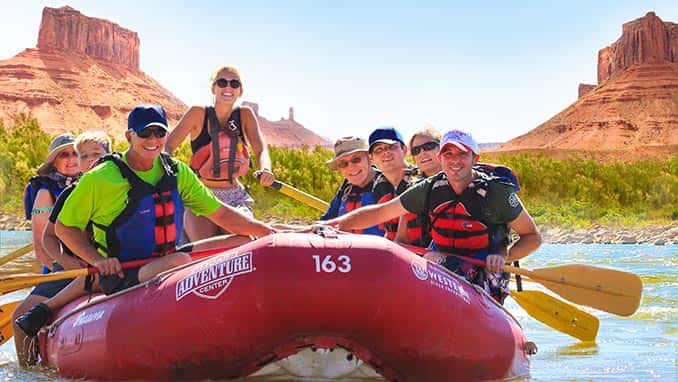 1. Go Rafting for the Day on the Colorado River
The most popular things to do in Moab, Utah is river rafting on the Colorado River through the world famous scenery of Castle Valley. There are plenty of choices from morning or mid-day trips, but a full day of rafting offers the most bang for your buck. Moab Adventure Center even arranges an exclusive hot BBQ meal in the shaded lunch pavilion and lawn at the Red Cliffs Lodge. Plenty of other options for rafting are available in Moab, Utah. Click here to learn more about overnight and multi-day rafting trips in Moab, Utah.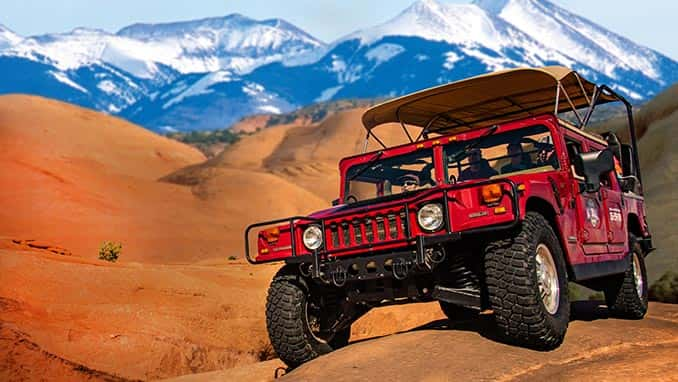 2. ​Experience a Sunset Evening Hummer Safari
In the evening, one of the best things to do in Moab is a Sunset Hummer Safari. Everything in Moab turns a deeper shade of red, or pink, or orange as the sun sets in the west. As you watch this kaleidoscope of colors, you'll be sitting comfortably in a rock-steady Hummer, driven by expert guides, over some of the most unique terrain on planet earth. The Hells Revenge Trail is perhaps the most world famous 4x4 trail, and certainly one of the most popular things to do in Moab.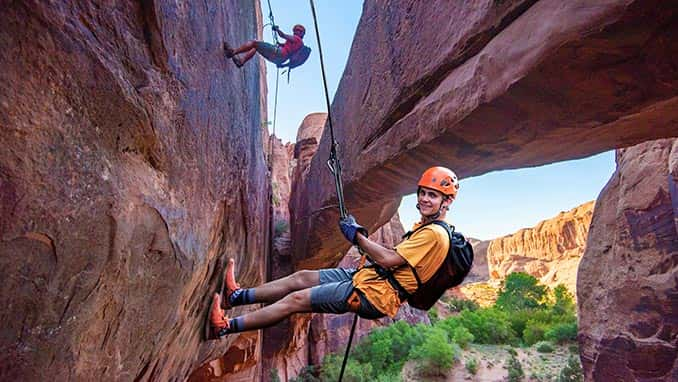 3. Go Deep With a Half Day of Canyoneering
Hiking is without a doubt an excellent thing to do in Moab, so why not throw a few hidden grottoes, arches, and rare creekside trails into your morning or afternoon hike? Many hike up Grandstaff Canyon for a little shade and some rare desert greenery along a babbling stream, but most hike up and back from the trailhead at the bottom. When you go canyoneering you'll begin at the top edge of Grandstaff Canyon. You'll harness up with experienced guides and ropes that let you rappel into Ephedra's Grotto, and then over the massive, but hidden Morning Glory Arch. That puts you at the top-end of gorgeous Grandstaff Canyon. Now that's an entrance for a hike in Moab!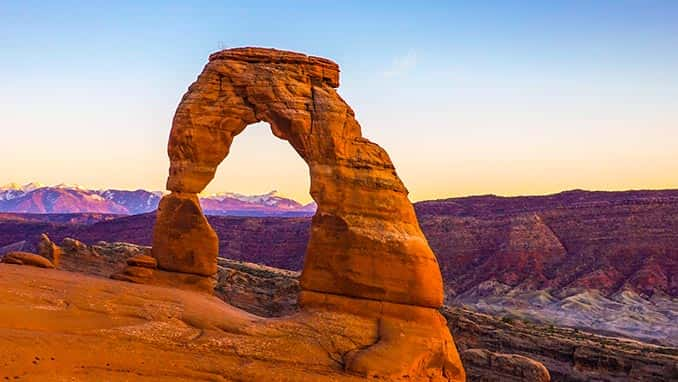 4. ​Tour Arches National Park
You can't make a trip to Moab, Utah, and not see Arches National Park. Many of the park's iconic features are easily explored just off the highway with a morning or evening guided van tour, or a drive on your own. Some advantages to a guided van tour include taking your hands off the wheel, allowing your eyes to scan the odd horizon-line within the park. Your guide will explain what your eyes are seeing, and direct you to some of the very best places for photos like Balanced Rock, Turret Arch, Double-O arch, and more. Exploring a little deeper on your own to the world-famous Delicate Arch is a very rewarding experience but be aware that It requires a little planning and preparation beyond the casual National Park stroll.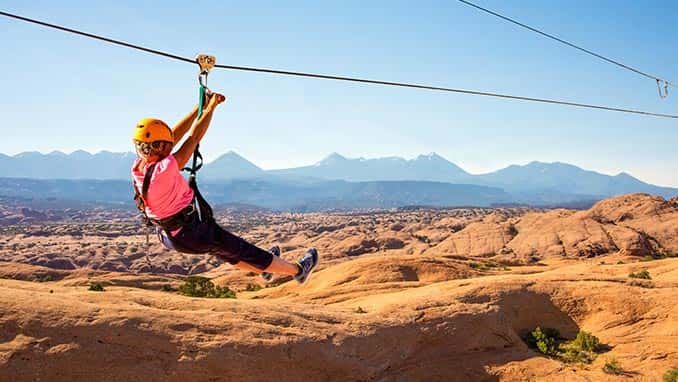 5. Ride the Moab Zip Line
Zipline tours are always a lot of fun no matter where you are, but where else can you soar like a raven from sandstone ledges, domes and fins across a wide-open desert rimmed by snow-capped mountains? That's Moab! Even better, this super fun thing to do in Moab is easily accessible on the northern end of Main Street where a rowdy 4x4 ride up the mountainside takes you above the town of Moab and on the rim of a whole different landscape, just hidden from town. These tours happen almost all day long so you can plan it around many of the other things to do in Moab that we've already mentioned.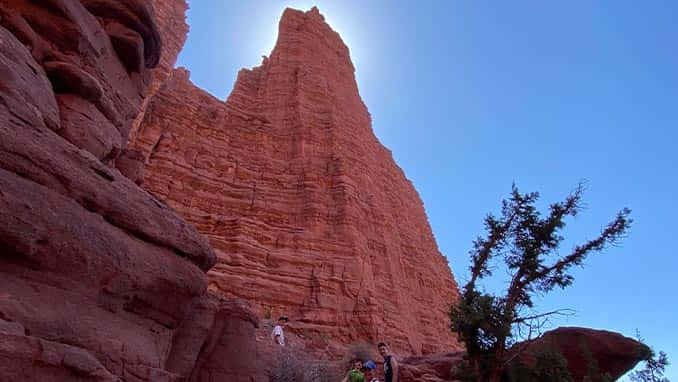 6. Hike to Fisher Towers
What could be a National Park or monument anywhere else, these titanic towers rise nearly a thousand feet above the desert floor, yet blend in almost imperceptibly from certain viewpoints among Castle Valley below. Rock Climbing is a very popular thing to do in Moab, and the Fisher Towers offer expert climbers a challenging and rewarding view. Beginner climbs are recommended elsewhere in Moab. Just hiking the undulating trail at the base of the towers is awe-inspiring; no need for ropes to get an amazing view here! The way the place glows at sunset, and the silhouette of prominent rock castles in the valley below will really make you feel like you've been someplace worthy of being called "The West". There is little shade in the afternoon and evening, so take care to bring water on the trail with you. Click here for driving directions to the Fisher Towers trailhead.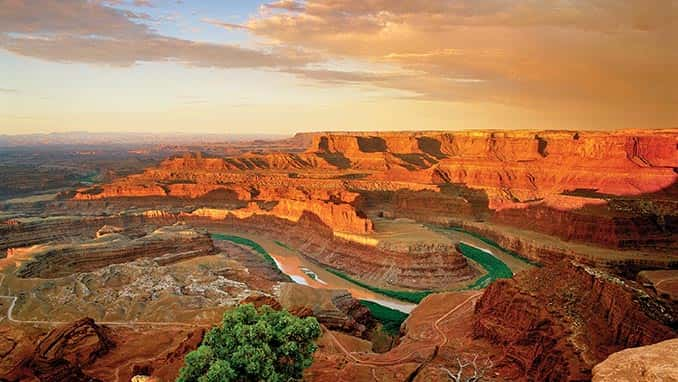 7. Drive to the Overlook at Dead Horse Point
Soaking up the vast view at this easily accessible overlook in the morning or evening sunlight is most definitely one of the best things to do in Moab, Utah. Even in the flat glare of mid-day this State Park will inspire you. The goosenecks of the Colorado River rolls tranquilly hundreds of feet below as it approaches the deeper labyrinth of gorges in Canyonlands National Park, including Cataract Canyon. If you're looking for a fun thing to do in this area, you might consider a guided mountain biking tour on the easy to moderate trails that traverse the rim of the Dead Horse Point area. The tour includes multiple jaw-dropping scenic overlooks.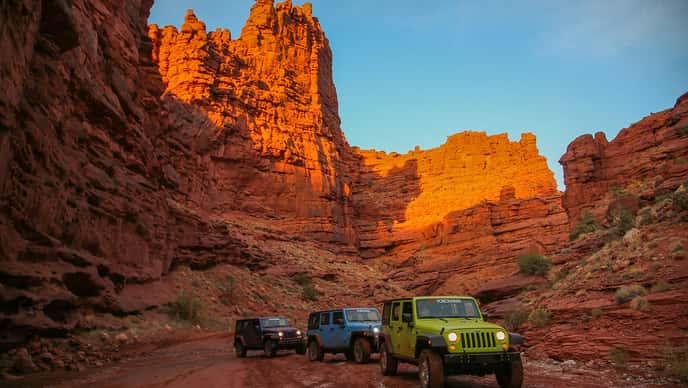 8. Drive a Rental Jeep to Somewhere Remote
Driving a Jeep in Moab just feels right. Cars will get you around just fine, but something about those oversized knobby Yokohama tires, the satellite radio, and the cooler packed with ice in the back that makes you feel like exploring. Moab is an off-road explorer's paradise. The landscape surrounding Moab has an unusual amount of dirt roads that go everywhere while not going anywhere in particular - but there are A LOT of scenic viewpoints along the way! These "off-road" roads that go nowhere are everywhere in Moab thanks to the early Uranium mining boom of the 1950's and '60's.
Some recommendations:
Take it Easy - Most of the very best scenic vista trails scattered around Moab do not require amazing rock-crawling skills nor overbuilt OHV side-by side machines. Jeeps are the perfect balance of comfort ON the highways, while being perfectly suited to 80% of the off-road 4x4ing you'll need to do to get someplace remote. Jeep rentals are also far more comfortable for a day with cover from dust, wind, and weather.
Take a Picnic - The cooler filled with ice in the back of your Canyonlands Jeep Rental knows you'll be exploring all day. It's ready for an order of lunch from Sweet Cravings before you head out of town.
Take Pictures of Your Jeep like you're driving through a commercial - You've seen the commercials, and now you're living it. Take the winding switchbacks of the Shafer Trail that climbs the cliffside up to Dead Horse Point, or the Gemini Bridges Trail back to the Highway, or splash up and down Onion Creek near the Fisher Towers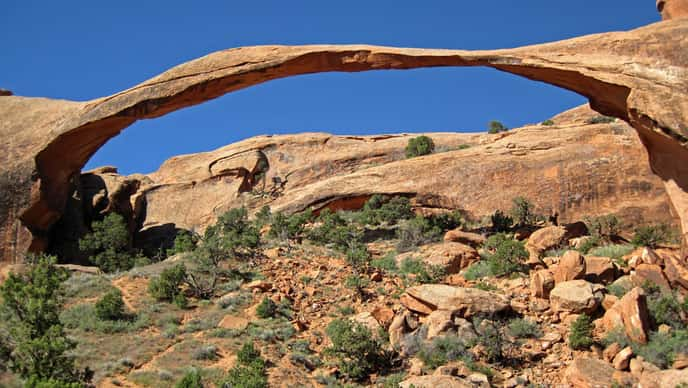 9. Hike to Delicate Arch or Landscape Arch
There are so many rock features to explore in Moab, both inside and outside of National Parks that you may be wondering why it would be worth hiking up to 3 miles from the parking lot to see yet another. It's a good point, being that so many incredible features and overlooks require nothing more than a "window shopping" stroll. But in the case of Delicate Arch and/or Landscape Arch, you may want to plan half a day into your vacation for hiking. Prepare properly with shoes, jackets, adequate water, and a good camera. Even a bad camera will take an incredible photo of Delicate Arch. It's got a drop-dead gorgeous stance, backdrop, and angle to the sun that makes it so iconic for license plates, Olympic Torch parades, and countless postcards. It's such a good visual landscape it makes you wonder if it ought to be called "Landscape Arch".
The real Landscape Arch is an easier hike, but much more difficult to size up in a camera frame, and with such a fragile, slender and, well… delicate profile it seems to defy gravity. It ought to have the name "Delicate" but we didn't assign the names! Visually, and in person these two arches that require a bit of hiking are well worth the effort.
Learn About Arches National Park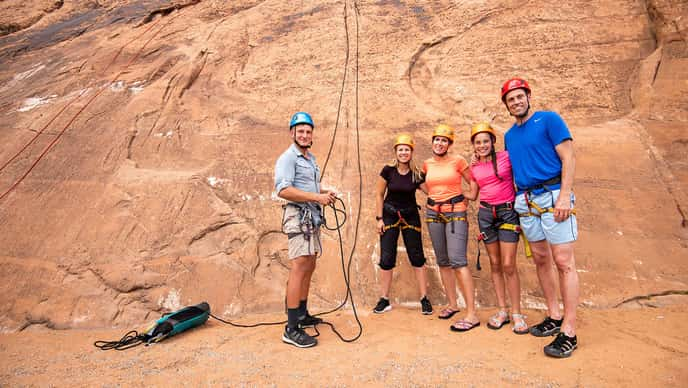 10. Learn to Rock Climb
El Capitan and the Yosemite Valley are not the only iconic areas famous among rock climbers. The crack climbs in famed Indian Creek (a tributary to Canyonlands National Park) are among the world's most sought-after routes. A summit on one of the Fisher Towers like the Titan, or Castleton Tower is a featured moment celebrated in numerous TV commercials or gear catalogs.
But if you are just a noob, and want a fantastic and friendly
introduction to rock climbing
(on natural rock faces) then we've got a tour (and guides, and equipment) for you!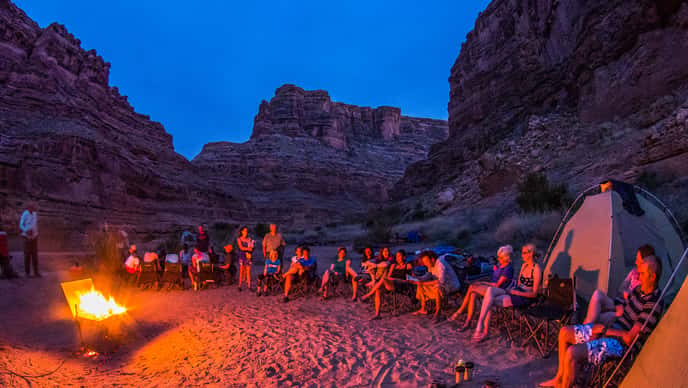 11. Plan Your Next Trip to Moab to Include a Multi-Day Rafting Trip
By now you should have realized that there are A LOT of "Things To Do in Moab". It's hard to fit Moab into any typical vacation span. But we haven't really even talked about more than a 30-mile radius around Moab yet!
If you're really committed to getting "off the beaten path" in Moab, then you need to consider one of several overnight or "expedition-level" rafting trips. These are
multi-day rafting adventures
that fly you out to (or back from) remote dirt airstrips that are as remote as any Alaskan Bush Plane would venture. Imagine floating nearly 100 miles over the course of 4 or 5 days and returning back to Moab for whatever else you want to add to your Moab bucket list. After experiencing these "expedition-level" rafting adventures you will be a different person. You'll suddenly know a whole bunch more about Moab, and more importantly, about yourself!

More to Do in Moab


Free Insiders Guide to Moab, UT
What to take, where to eat, where to stay, what to do, and a few little secrets on the side. Not unlike your own personal Jiminy Cricket, (minus the worries of the little guy getting smooshed) the Moab Insiders Guide will provide you with all the essentials for a perfect Moab experience.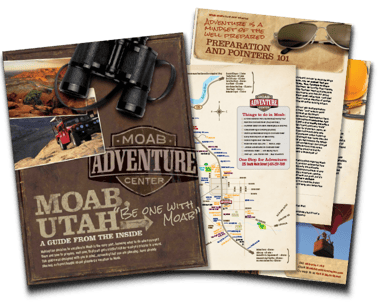 Expedition Guide
What to take, where to eat, where to stay, what to do, and a few little secrets on the side. Not unlike your own personal Jiminy Cricket, (minus the worries of the little guy getting smooshed) the Moab Insiders Guide will provide you with all the essentials for a perfect Moab experience.