Make the Most of Your Time in Moab
Jason Taylor
Looking to plan the perfect itinerary to Moab? With over thirty 5-star adventures, tons of wonderful dining and shopping options, incredible scenic drives and hikes, there is so many experiences awaiting in and around Moab. Operations Manager, Jason Taylor, provides some tips to make the most of your time while in Moab.
My favorite thing about Moab is it it's a small community atmosphere with a lot of ways to have fun here, there's a lot of ways to be outside to do things in the backcountry to get up into the mountains ya know close to pine trees and Aspen trees as well as doing stuff in the red rocks and in the canyons.
One of the things we really encourage people to do is to check out the Moab Adventure Center. You'd be doing yourself a disservice by not coming in and seeing what other activities there are to do in this area: Choose an evening Hummer tour or a morning canyoneering tour to just being able to get information about going to Arches or Canyonlands National Park.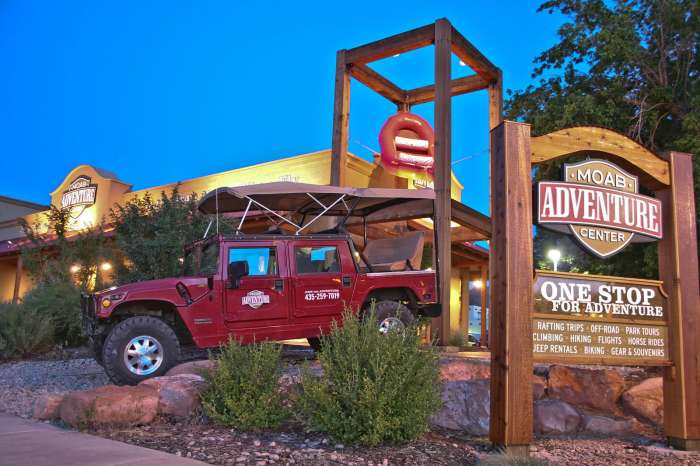 Our main goal is to help people get the most out of their time in Moab and plus its a great store if you forgot something that you needed for a trip. If you need a sun shirt, if you need a pair of sunglasses, we have a lot of that stuff love has a great.
Moab has a great Main Street it's a great place to go in the evening actually being on Main Street has a really good small town feel to it. There's a lot of mom and pop stores ya know stores that are owned by locals here in town that have gift shops and that sort of thing. I encourage everyone who comes down, no matter what you like to collect while on vacation you can find it in Moab. There is just a lot of really really unique stores on Main Street.
People always ask like what's the best time to come down here and it kind of depends on what you're looking for are you looking for big whitewater? are you looking for great scenery with not much Whitewater? Or do you just want to be able to take pictures and enjoy the Solitude in the natural surroundings?-- and then depending on what people say to me I'm going to steer towards the river that fits what they want.
I think one of the most incredible places and one of the most undiscovered places is River trips that are run out of Moab Utah.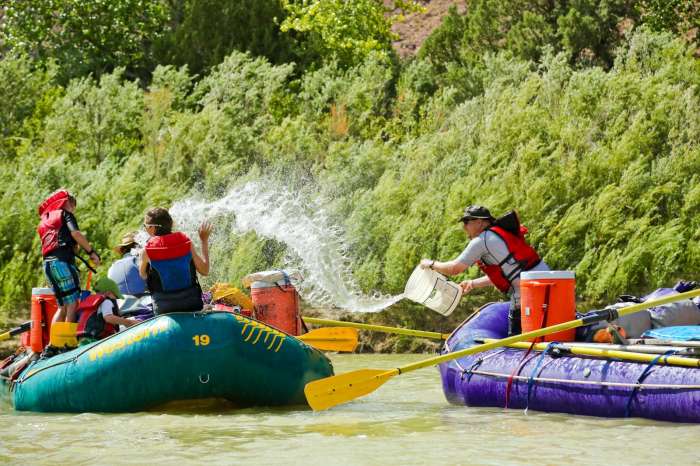 Whether you and your family are looking for a a Desolation Canyon trip for a Cataract Canyon trip- you know Cataract Canyon is kind of this hidden gem that not many people know about. Or even as Westwater trip- Moab is the perfect Hub to do a lot of these different trips.
Some of the greatest trips you can do like our five-day desolation Canyon trip is probably one of the most wild and Scenic rivers in theWestern United States it's probably one of the most remote rivers in theUnited States. It has a lot of Rapids on it but the Rapids are great for families, there's nothing too crazy --but they're big enough and you get a Thrill Ride your big enough that you have fun you have a lot of fun. It's a river stretch that is just inundated with history from- Native AmericanHistory- to Outlaw history- a little bit of mining history- it's one of the most incredible desolate, Desolation Canyon- rivers in the UnitedStates. It is a great trip for children you know five years old and up -you know I've taken my children on this trip and it's, it's by far my favorite river trip to do with my family.
We watch parents reconnect with their children as they're sitting there at night and they're looking at the Big Dipper you know parents be on trips and they've never seen the Big Dipper you know they've never seen the Milky Way. Watching Families on these trips where they get this experience where fathers get to reunite with their children it is pretty incredible , a pretty amazing experience.