How Does Arches National Park Weather Affect Your Visit?
Kam Wixom
Located in southeast Utah, just five miles north of Moab, Arches National Park offers some of the most spectacular scenes that mother nature can paint. Arches is one of the most stunning spots in the national park system boasting a wonderland of red rocks and blue skies. The red rock landscape at Arches National Park can transport visitors away to a timeless, dream-like world ofor pre-historic imagery. Named after its iconic characteristics, over 2,000 stone arches rise high above the landscape to tell a story that has been 65 million years in the making.
Although more than 2,000 natural arches highlight the 76,500-acre park, Arches is also home to other outstanding geological formations. The national park is also home to colossal sandstone fins, massive balanced rocks, and soaring pinnacles. Moreover, the awe-inspiring spires dwarf visitors as they journey through hiking trails and the paved scenic drive. A spectacular sunrise or sunset can complement your day as dramatic light spills down into grand dessert valleys and across this Jurassic-aged wonderland.
Traveling to Arches National Park can feel as though you are journeying to a faraway mystical land with amazing configurations and light that seems to change each moment. With enchanting vistas and delicate sandstone arches, you can escape to a world dating back millions of years. After sundown, the Colorado Plateau is also home to some of the darkest skies in the contiguous United States. The park takes on a completely different experience at night, boasting impressive views of the Milky Way.

Whether you are a hiker, a photographer, a nature lover, an explorer, or a stargazer, Arches National Park offers something for everyone. Going to the park with Moab Adventure Center will allow you even more opportunities to explore the natural wonders by land or by air. However, no matter what you choose to do, you need to be aware of the weather and the conditions that may impact your trip. The park's incredible formations wouldn't exist today if not for mother nature's extreme heavy-duty scouring and erosion power. Those same forces are still at work today, and you need to be aware of weather conditions before you visit.

Southeastern Utah is a high desert region part of the Colorado Plateau. Arches can experience wide temperature fluctuations with as many as 40-degree swings in one day. Visitors have been stranded on trails and roads when quick flash floods inundate low-lying areas, and others have been stuck by quicksand after heavy rains. Being near sandstone fins is not ideal during high winds or when slick conditions arise after rain, snow, or ice. Let's take a look at some things you can expect during different times of the year and how the weather changes at Arches National Park.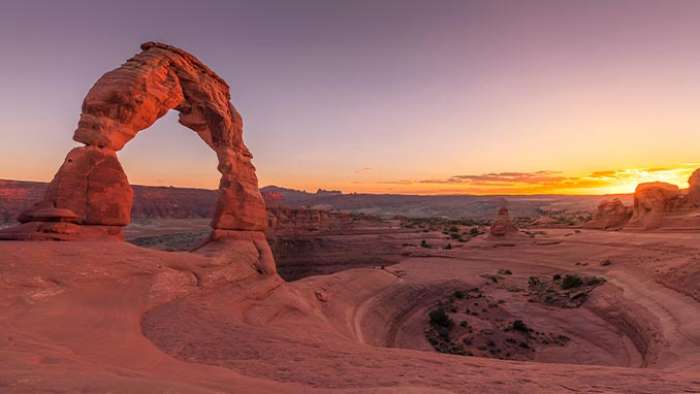 The Winter Season at Arches
Winters at Arches National Park can be cold, with highs averaging 30 to 50 degrees and lows ranging from 0 to 20 degrees. Although large snowfalls are mostly confined to the nearby mountains, small amounts of snow and ice are possible throughout the winter. During inclement weather, many trails and roads may become impassable and will be closed for the safety of visitors. It's important to check out the weather forecast before your visit during the winter months as there is a possibility of a wide variety of climate conditions.
On the other hand, winter can be an amazing time to explore the park as there are fewer visitors. On some winter days, you could have entire sections of the park all to yourself! The visitor center is open year-round and if you are prepared with the proper gear and attire, it can be a real treat to see the vivid red-rock landscape with a contrasting dusting of snow. Moab Adventure Center can help you craft your perfect winter escape to Arches.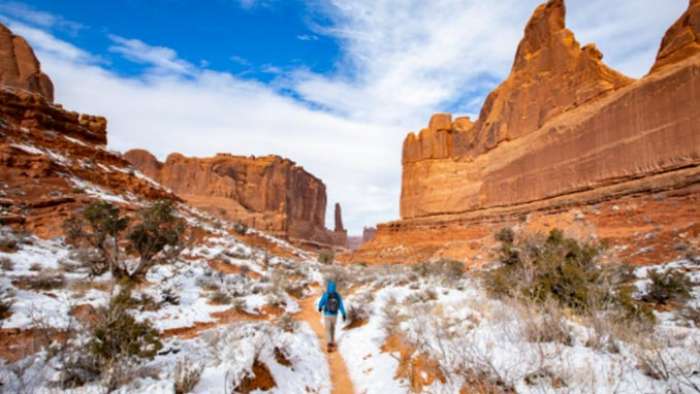 Spring Blooms at Arches
In terms of weather, spring is a great time to visit Arches before the scorching days of summer arrive. As a shoulder season, April through May offers very pleasant conditions for your Arches adventure. The winter thaw gives way to average temperatures in the 60s and 70s with warmer 80 degree days arriving in late spring. As tiny wildflowers begin to sprout from the desert crust, spring is one of the most comfortable times to explore the sandstone wonders.
It's no secret that spring offers beautiful weather and warmer temperatures in southeast Utah. Visitors are well aware of how pleasant the weather is during the spring season, and the park can become quite crowded at times. Holiday periods like Easter and Memorial Day are especially busy. Due to warmer days and cold nights, it's important that you dress appropriately for your spring adventure. It might be best to dress in layers and be prepared for dramatic temperature swings.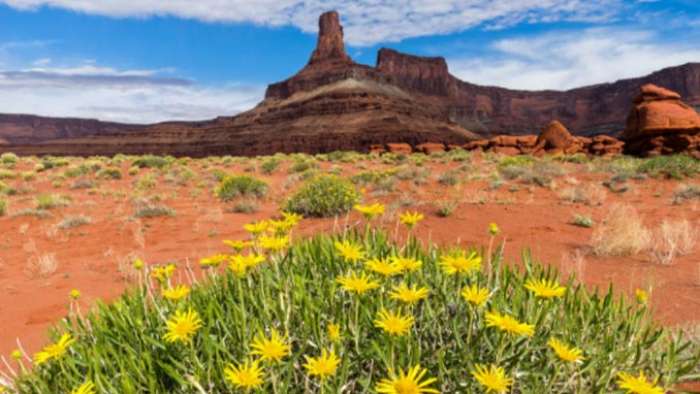 Summer Sun at Arches
The summer season is one of the most popular at Arches because of summer vacations and family visits. However, it's important that you are prepared for the weather when you visit during the summer months. Arches is located in a desert region so you can expect varying conditions. Summer temperatures can often exceed 100 degrees during the day, making for strenuous hiking and climbing conditions. The late summer monsoon season can also bring violent wind and rain storms which can cause flash flooding in low-lying areas. Some trails or roads may temporarily close during storms for the safety of visitors.
The summer is the perfect time to let Moab Adventure Center create a unique Arches experience for you. However, you need to respect the temperatures. Heat-related illnesses can occur quickly during hot summer days. It is suggested that you consume a gallon of water or more per day while visiting the park. There is water at the visitor center and at the Devils Garden Campground and trailhead, but you will need to be sure to bring plenty of H2O. Shade is even harder to come by than water in the park, so wear appropriate clothing and headwear to protect you from the sun. Sunscreen is also an essential part of your adventure gear.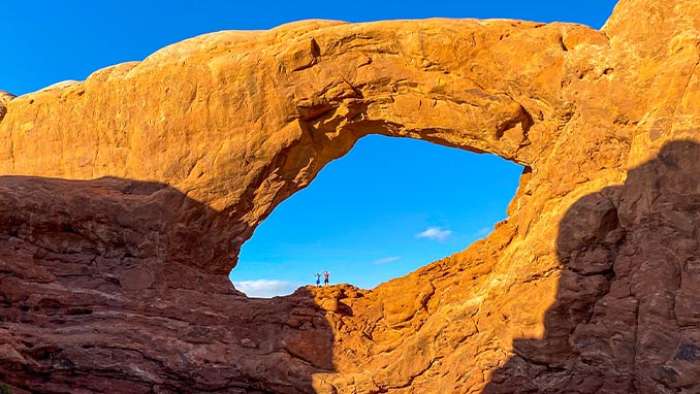 The Fall Season at Arches
Fall is another shoulder season that offers more comfortable temperatures for exploring Arches National Park. Like April and May, the fall months offer cooler, more pleasant temperatures with highs in the 70s and 80s and lows in the 50s and 40s. The monsoon season extends into September but you can expect drier and more stable conditions. Also, similar to the spring, the crowds can be large at times as people come to enjoy the beautiful weather. This is another time of the year when it will be best to dress in layers and prepare for big temperature swings. The days are shorter during the fall, so that also lends itself well to stargazing when the weather is still comfortable.
No matter what time of year you plan on visiting Arches National Park, mother nature is sure to offer a unique experience. It's always best to check the weather forecast before visiting and prepare for various conditions and temperatures to
ensure your safety
. However, there is never a bad time to see Devil's Garden Trail, the Fiery Furnace, La Sal Viewpoint, the Windows Section, or the Delicate Arch. Moab Adventure Center is ready to take your experience to the next level whenever you visit. Contact us today to learn more about our adventure trips and the different ways you can explore the seasons at Arches.