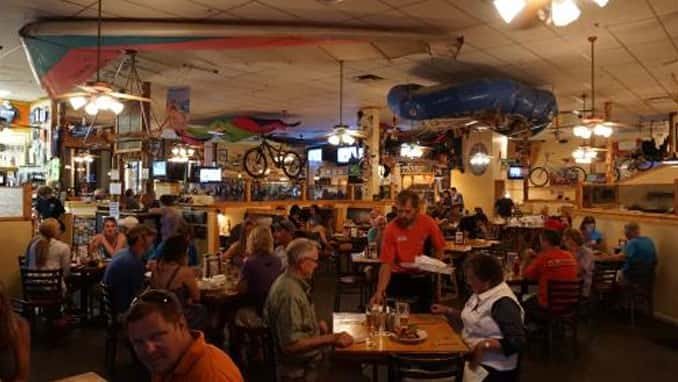 MOAB BREWERY
Something for Everyone: For the past couple of years our family makes a trip down to Moab for spring break. After a full day of hiking, biking, and exploring the whole fam is whipped out, sunbaked, and ready for real food. Every year without fail one restaurant we never miss having a least one dinner at is the Moab Brewery. It's perfect because it has something for everyone. From the little kids to the grandparents, there are plenty of options to choose from.
FISH 'N' CHIPS - One of my all-time favorites is the fish 'n' chips dish. It's hand-battered with a rocket bike lager and comes with a side of fries and remoulade. This meal hits the spot pilled with four crispy beer battered fish strips underneath a pile of thick fries to keep you satisfied. It's portioned perfectly to fill you up, without leaving you overstuffed but wanting to come back for more.
MOAB MONSTER - If you're feeling like you're ready to tackle a monster meal I recommend the Moab monster burger. This thing is intense, filling, and delicious, you'll walk away feeling accomplished and full. In the Moab monster, you get mushrooms, onions, bacon, Jack Daniels BBQ, cheddar, johnny's onion ring & dead horse Ale aioli. As far as burgers go, this one is the way to go, my whole family wants to try a bite when I order it. It also comes with a side of fries, but you must pace yourself and start slow, or else you could easily get full-on fries.
BEER BATTERED ONION RINGS - The onion rings at the brewery are a must on our family's order list. I recommend this side or appetizer to any onion ringer fan. These doughnut-sized rings have the perfect amount of crunch without being over-fried.
GELATO - On the way out the door, if you still have room left in your stomach you can grab a gelato. They have about 10-12 flavors and half of them are dairy-free, which is perfect for those who are lactose intolerant.

CANYON PIZZA COMPANY
The Canyon Pizza Company is the go-to for a pizza party! Located right in the heart of Main street, it's easy to access and delicious! They have nine-teen specialty pizzas to choose from, it's hard to narrow down to just one favorite, so I'll list my top three.
BUFFALO CHICKEN - The buffalo chicken is to die for, topped with a buffalo ranch, chicken, bacon bits, mozzarella cheese, and green onions. It was so tasty that having one slice isn't possible.
GARDEN STYLE - The next top pizza is the garden style, packed with toppings, and full of flavor, especially from the artichokes.
THE RODEO - Lastly, the rodeo is a classic go-to. I love a good BBQ sauce and "the rodeo" delivers, topped with BBQ sauce, mozzarella cheese, steak, bacon, cheddar cheese, and crunchy onions.
SIDES AND DESSERTS - You can't do pizza without a side of breadsticks and luckily Canyon Pizza Company offers delicious garlic bread twists served with ranch or pizza sauce. I loved snacking on these twists because you can eat a fair amount and still have plenty of room for pizza!
The cinnamon twists are slightly addicting. You can't just have one, these were a popular item at our pizza party and didn't last long! The frosting dip that paired the twists added a sweet note to the end of the meal.
FIESTA MEXICANA
For those looking for hearty helpings and authentic Mexican food, my number one recommendation is Fiesta Mexicana. You won't go hungry with any meals from here, their portions keep you full and you'll likely have leftovers to look forward to the next day. They offer catering services as well as a sit-down style. The customer service was great, the staff was happy and upbeat making the restaurant a fun, entertaining environment.
ENCHILADAS - I had their enchiladas, and they did not disappoint. Their meat was full of flavor and savor and the salsa was fresh and tasty with a slight kick. I recommend getting the refried beans, always a favorite and fiesta Mexicana did a great job with theirs.

MOYO
For all the frozen yogurt fans out there, MOYO (Moab frozen yogurt) is the way to go. However, they also have custard, gelato, smoothies, baked goods, and Italian ice! My personal favorite is their frozen yogurt, which you can get in a cone or a cup. My favorite is the waffle cone, which was delicious!
THE SPOKE ON CENTER
This is also a family favorite, located right in the middle of the liveliest part of Main street, you can line up outside their window for some yummy ice cream! I love this place because you get a large helping of ice cream for a great price! My top two favorites are superman and huckleberry in a waffle cone. I like going to the spoke because while you finish your ice cream after dinner, the evenings have cooled off a little and it's fun to do some exploring on Main street while you finish your cone.