8 Photo Hotspots in Moab, Utah
Marcelí Thompson
Moab, Utah is a photographer's paradise. The goal of this post is to help you narrow down (and find) some of these hot spot shots in and around Moab. Some of the shots featured here are in the early morning sunrise hours and others at sunset. If you've got the know-how you can grab night-time photos with the stars as your backdrop. The creativity is up to you, but be advised that most of these photo spots require a bit of hiking on your part which of course means being prepared for the conditions.
1. Delicate Arch
Delicate Arch is a classic must-do while in Moab. With a 3.2 mile hike and an elevation gain of 629 feet, this moderate out and back trail to the beautiful, grand arch will give you the perfect photo ops.
How to get there: The trailhead to Delicate Arch is located almost in the center of the park map. You'll get a park map as you enter Arches National Park. Plan your driving and hiking time so you get there with plenty of time before the "golden hour" of sunset. Many hike there in the morning or during the day as well.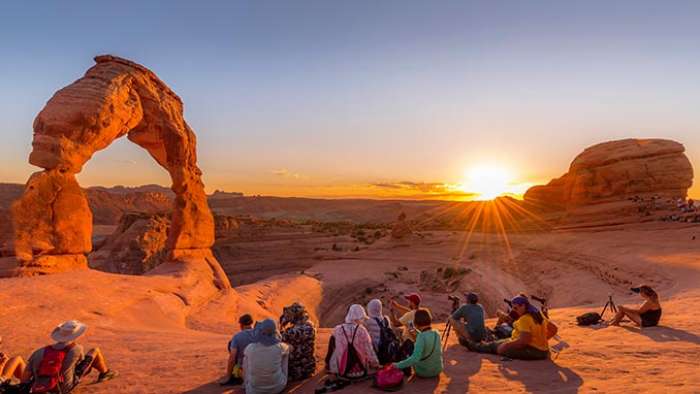 ​2. Double Arch
Double Arch may be a very easy short walk but the final destination is unlike anything you've ever seen. At just .6 miles this beautiful double arch formation proves that you don't have to hike or go far to see some truly spectacular views.

How to get there: Among the features you'll visit on a guided Arches tour, the trailhead here is in the lower parking lot in the "Windows Section" of Arches National Park.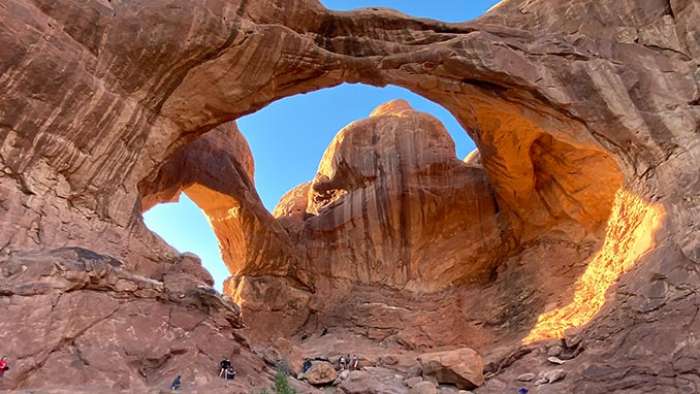 ​3. Byway 128
Rated as one of the most scenic byways in the U.S. Taking a drive-through the beautiful 44.6 mile-long stretch of state highway, carving through the red rock formations, and running along the colorado river, you're sure to get some truly amazing shots.

How to get there: Simply drive east along the Colorado River from Moab toward Cisco and I-70 until you feel like turning around. There will be spectacular views the entire drive. Most of this same scenery is seen on any of the day rafting trips, or horseback rides near Red Cliffs Lodge.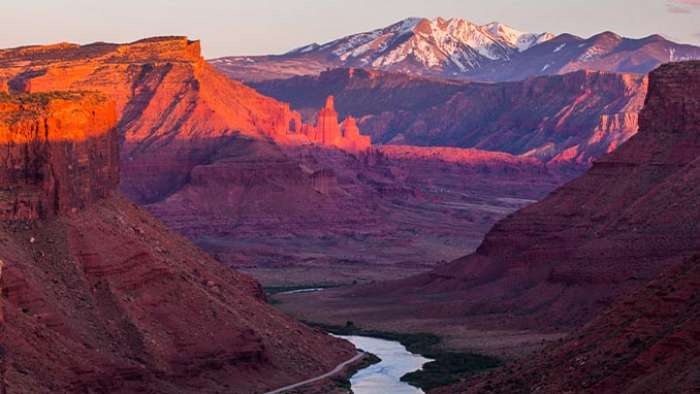 ​4. Corona and Bowtie Arch
Corona and Bowtie Arch do not reside in the Arches National Park however, that in no way means they do not capture the attention of so many visitors that hike to see these jaw-dropping arches. The two arches are right next to each other at the end of a moderate 2.4-mile hike with an elevation gain of 482 feet. It's safe to say you'll get some stunning shots of the two amazing rock formations.

How to get there: Turn off of Hwy 191 to Hwy 279. Corona Arch trailhead is about 10 miles down Hwy 279 along the Colorado River (heading downstream) toward "Potash".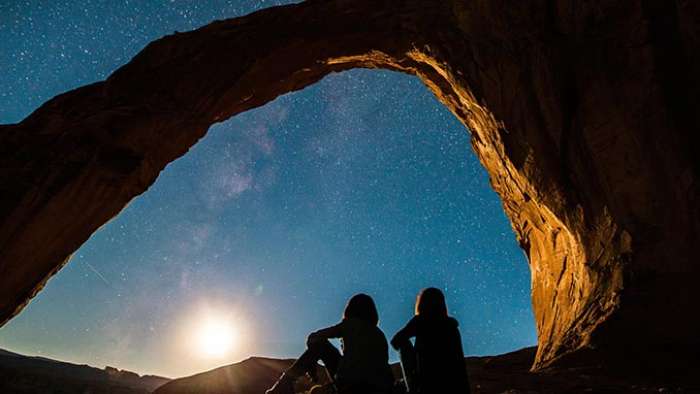 ​5. Turret Arch
As pictured, you can frame Turret arch inside the North Window. Closer to Turret arch you can get a perfect angle with the stairs leading up to the arch, creating the perfect shot. Although it's the smallest arch out of the three on the trail loop, you'll be sure to capture some truly amazing shots with the right angle.

How to get there: Turret Arch is part of the "Windows Section" trail loop you would visit on the Arches guided tour.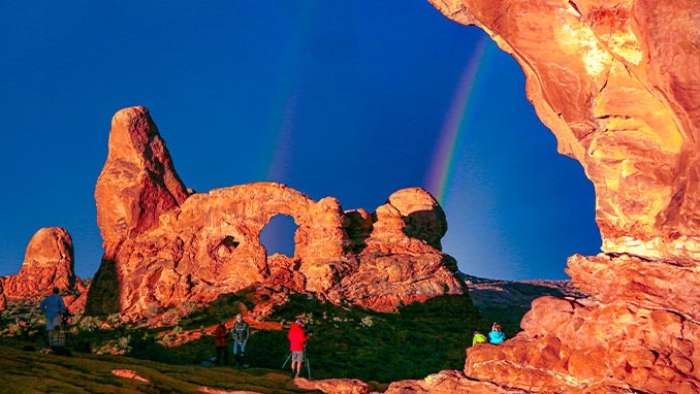 ​6. Dead Horse Point
There's one word that comes to mind to describe Dead Horse Point and that word is grand. With multiple lookout points in the state park, you are sure to score some remarkable shots of the famous Riverbend.

How to get there: An easy and rewarding drive up Hwy 313 will lead you to Dead Horse Point State Park. Canyonlands National Park is further along the same highway. Guided mountain biking tours wind their way between different lookout points in this spectacular state park.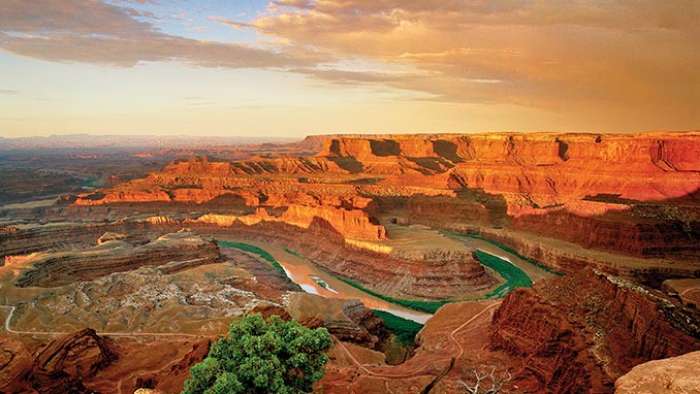 7. Greetings From Moab Sign
For those who want something to capture other than the outdoor landscape that makes Moab so unique, there is the classic greetings from Moab sign. Moab has so many exciting murals and this one for sure is the perfect place to photograph to remember your stay.
How to get there: Walk along Main Street in Moab, Utah until you reach the cross street of 200 North. The mural is painted on the side of the Bowen Motel.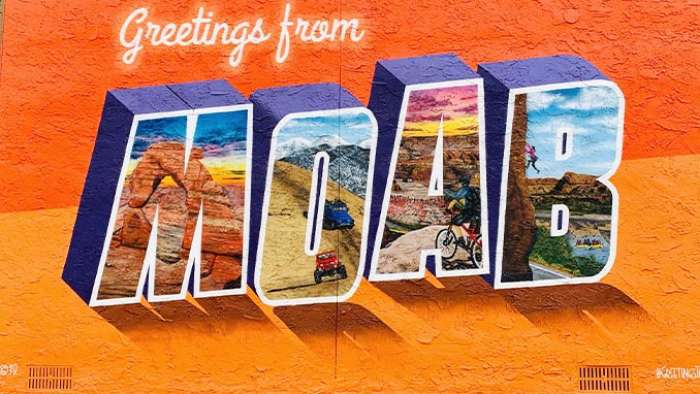 ​8. Railroad Tracks to Corona and Bowtie Arch
On your way to the two arches, there is an active railroad track you cross to get back to the trail to the arches. The tracks carve through some rock and if followed, will lead to a faraway viewpoint of the two arches. Not too far into the tracks, one can get some pretty incredible, unique shots. CAUTION: The railroad is an active track so be aware, listen for trains and get off the tracks if needed.

How to get there: The train tracks are part of the trail as you head toward Corona Arch, just a short distance from the trailhead.