Utah National Parks are breathtakingly beautiful, and full of Native American and unique human-history. Known by locals as "The Mighty Five" National Parks, Zion National Park, Bryce, Capitol Reef, Canyonlands and Arches National Park are each unique erosional masterpieces. Nowhere else but Utah will you find this many National Parks on display within just one (epic) road trip. Learn how to take on the Mighty Five with our helpful information below, or skip right to making the most of your anchor point among the National Parks in Moab, Utah - home to two of the five Utah National Parks.

The Grand Staircase-Geologic Overview: Ancient sandbeds, shallow oceans and dinosaur-trapping marshes long dried up from Jurrassic and Triassic periods solidified into orderly layers of stone in vast expanses across the southwest. These stone layers each eroded at varying rates as they were pushed slowly upward by volcanic forces deep beneath the layered crust - becoming what is today known as the Colorado Plateau - or more descriptively known as "The Grand Staircase." The five Utah National Parks adorn each step of this Grand Staircase, culminating with Moab's Arches National Park where more than 2,000 delicate, yet massive ribbons of stone soar overhead! Millenia in the making, but on show today, just 20 minutes from Moab!

Click for Grand Staircase Map (PDF)
The Mighty Five National Parks Vacation Itinerary »
Zion National Park (Est. 1919)
Escape Las Vegas heading North on I-15 towards St. George, Utah like Robert Redford did in the Electric Horseman. Zion is easily Utah's most crowded Park in the summer months, but views are endless and hikes can be very rewarding.
Activities & Travel Suggestions:

Lodging:

(Day 1) Drive 2+ hrs Las Vegas to Springdale
(Day 2) Morning hike to Emerald Pools, or The Narrows, or possibly Angel's Landing if you like dizzying heights!
Evening drive (1.5 hrs) to Bryce via Zion's Tunnel


Desert Pearl
Majestic View Inn
Best Western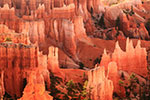 Bryce Canyon National Park (Est. 1928)
If you miss the sunset, plan to rise early - you won't want to miss the unbelievable sunrise on that east-facing rim of Bryce Canyon. Take a short hike down into the fairyland of strangely eroded spires. The Wall Street hike is particulary inspiring.
Activities & Travel Suggestions:

Lodging :

(Day 2) Arrive in the evening from Zion, enjoy Hwy 89
(Day 3) Morning drive to viewpoints, Wall Street hike
Afternoon drive (1.5 hrs) toward Capitol Reef - take your time on Hwy 12 for incredible scenic viewpoints.


Ruby's Inn
Bryce View Lodge
Campgrounds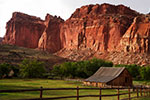 Capitol Reef National Park & Beyond (Est. 1971)
After a brief interlude with Bryce Canyon, you'll be ready to drive eastward on Scenic Highway 12 through the heart of the Grand Staircase National Monument. Hwy 12 is truly one of America's greatest treasures. You'll see what we mean when you drive it!
Activities & Travel Suggestions:

Lodging :

(Day 3) Arrive in the evening from Bryce, enjoying Hwy 12
(Day 4) Gas up the car in Torrey. You're headed to Moab via Capitol Reef Nat'l Park - (best explored by backpack).
Explore roadside history, fruit-stands and relatively empty highways. Possible side-trip to Goblin Valley State Park.


Red River Lodge
Sky Ridge B&B
Moab, Utah - Arches and Canyonlands National Parks Vacation Itinerary »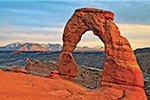 Arches National Park (Est. 1971)
After time in the desert, you'll be glad to see Moab, and the Colorado River flowing through it! Now's the time to take a break from the wheel and let us drive you around in a Hummer, or fly, or float! There's far more to do in between Canyonlands or Arches National Park than just one day allows... Try to fit what you can into your schedule!
Activities & Travel Suggestions:

Lodging :

(Day 4) Arrive in the evening from Capitol Reef, sleep well.
(Day 5-6) The Adventure Capital of the West is yours!
Fiery Furnace hike is a labrynth of slot canyons & hidden arches - Guides and Permits are required. Learn more.
Delicate Arch is a moderate, but rewarding self-guided hike.
Enjoy a Hummer Safari near Arches National Park, or possibly float over the northern corner of Arches National Park in a Hot Air Balloon.


Gonzo Inn
Red Cliffs Lodge
Hampton Inn
Bighorn Lodge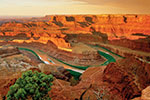 Canyonlands National Park (Est. 1964)
Canyonlands National Park is wide open and upside down. "A wilderness of stone" where a river runs through it - and by far the best way to explore Canyonands is first by river and then by air on the return flight back to Moab. Got 2 to 4 days for a river trip?
An early morning drive to the scenic overlooks of Dead Horse Point (State Park), the Mesa Arch overlook in Canyonlands, or possibly Grand Viewpoint will give you a good overview of where you've been. Allow about 4 hours to drive to Salt Lake International Airport, 6 hours to Las Vegas via Interstates, or 1.5 hours to Grand Junction Colorado.
Activities & Travel Suggestions:

Lodging :

(Day 6) Scenic overlooks at sunrise or sunset: Mesa Arch, Grand Viewpoint, or Dead Horse Point (State Park)
Return drive home (4 hrs to Salt Lake International Airport, 7 hours to Las Vegas, or 1.5 hours to Grand Junction, CO.
(Days 7-12+ options) Cataract Canyon Express 2 Day Rafting, or Cataract Classic 4 Day, or Desolation Canyon 5 Day
Complete the "Grand Circle" road trip - continue south of Moab to Monument Valley, Lake Powell, and Grand Canyon National Park.


Gonzo Inn
Red Cliffs Lodge
Hampton Inn
Bighorn Lodge
Under the Milky Way on the Colorado River